Treasure Routes in the Pre-Pyrenees
We would like to suggest a series of more unusual cultural routes through the Pre-Pyrenees region of Aragon. A different way of discovering the heritage that often remains hidden during cultural visits. A trip to some of the more unknown facets of our region. Along the way, we have hidden clues and invented stories to show you this hidden beauty in a fun way. Go ahead – and do not forget to turn on your GPS!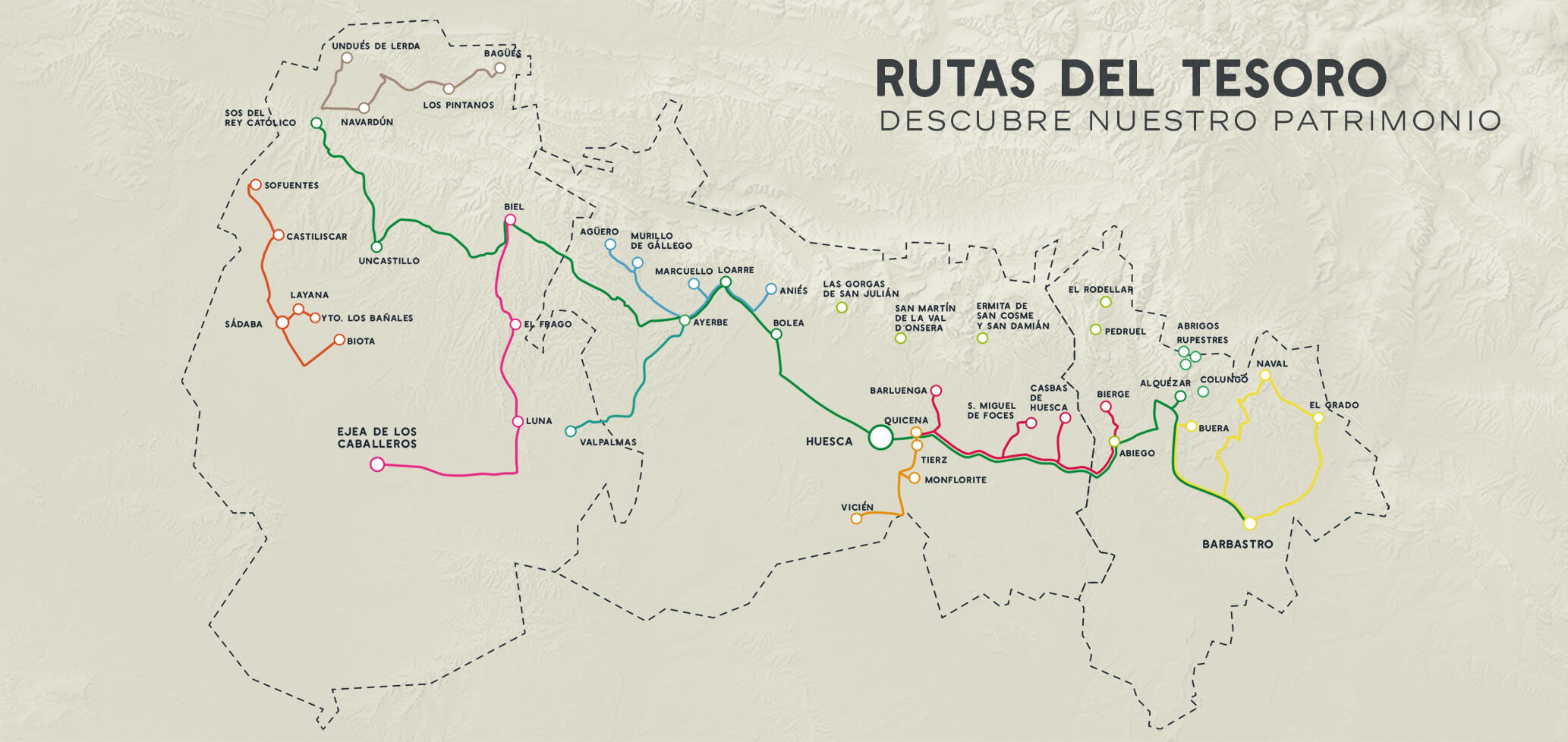 Imperial Rome
Sefarad
Ramón y Cajal
Footprints of War
Medieval Land
Trades and Traditions
Land of the Reconquista
Mysteris of Prehistory
Stones Giants
Secrets of Guara
THE LOST TREASURE OF AL-MUQTADIR
Prepirineo Clandestino
exists thanks to:
In 1063 the Aragonese conquer Barbastro from Al-Muqtadir, lord of Zaragoza. Although they found great wealth in the city, the Christians did not recover a chest that they had been following from Zaragoza, and that contained the payment of tributes to the King of Lérida: 50,000 gold coins. Ramiro I, and then, one-by-one, all the Aragonese queens, chase the treasure through the pre-Pyrenees region: Barbastro, Alquéar, Bolea, Loarre, Huesca, Sos del Rey Católico and Uncastillo are thoroughly searched. Will you accept the challenge?
Travel to the Kingdom of Mallos accompanied by fantastic mythical beings. Discover Aniés, Riglos, Agüero, Murillo de Gállego – a legendary journey.
Visit the battlefield of the Siege of Huesca. Tunnels, bunkers and strategic positions that commemorate the Spanish civil war that author George Orwell lived through.
Where and how did the ancient inhabitants of this region paint their images? They did it in a beautiful area full of spectacular natural shelters.
A pleasant way to get to know more about ancient trades and traditions. Live them yourself: make pottery, wine or oil.
In the middle of the Cinco Villas, located between Caesar Augusta and Pompaelo, we discovered a great Roman villa, with its thermal spa, its necropolis, baths and domestic areas…
Santiago Ramón y Cajal spent his childhood here. He told us about his landscapes and traditions in his memoirs. Discover them live!
Limestone and water Get ready to discover the most active of all our routes. But you're in Guara, and you will find magnificent landscapes on your journey.
You will be impressed when you see the beauty and artistic expression of the thirteenth-century painters. With their brushes, they tried to keep everyone on the path of righteousness so that they would never suffer the cruel consequences of straying.
Discover one of the oldest parts of Aragón. This is where the conquest of the Kingdom of Aragon began.
For centuries the Jews of the Five Villages contributed very actively to the life and the economy of this part of Aragon. We can see their legacy on this route.